Missed out last article: Find it here
On June 11th, we finally got to see the new PS5. We also gained an idea of what new features will come with it. Sony's new generation 9 console will be replacing the PS4 series. It has been rumoured that the new console will release on November 17, 2020. While we don't yet know the cost of the new console at the moment, it isn't a huge leap in logic to note that the version without the disk space will definitely be the more affordable option.
During the con we got to look at some of the PS5's new features in more detail: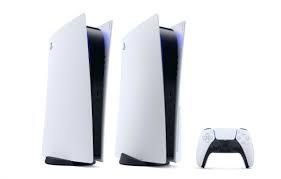 Interactive trigger: The L2 and R2 buttons have a Haptic feedback in them which allows the players to feel the tension in their actions with these buttons. For example, there will be more tension in pulling back the drawstring of your bow over shooting someone with a gun. This is so that developers can simulate actions more accurately, adding a level of realism to gameplay.
Disk and No Disk versions: When they revealed the two consoles at the end of the conference, it came with a twist: there will be two versions of the console. One version is equipped with a disk space while the other version is completely digital. While digital versions of consoles have been rumoured in the making for close to a decade now, this is the first modern console to do this. This is a big departure from both previous generations of PlayStation which were both praised for having a Blu-ray player built into the hardware. My hope is that there is a way for players to use the new digital PlayStation without needing to have internet connectivity all the time like the Xbox One, because otherwise, as I learned in 2013, people living in less well-connected areas may have some issues. (Yes, there are still places that do not have the internet, or where the internet is so bad it might as well be non-existent.)
New UI: According to people who have worked on the console, there has been an overhaul to the interface of the PS5 from the PS4. The criticism for the change from the PS3 to the PS4 was fairly positive, as, while it wasn't huge, the changes improved accessibility.
Backwards compatibility: According to Sony, the PlayStation 5 will be compatible with a large number of PlayStation 4 series games, with improved graphics to match. They are certain that at least the top 100 played games on the PlayStation 4 will be made backwards compatible.
Microphone built into the controller: This is a huge step up over the previous model and very innovative idea. With the microphone built into the controller, it allows players to talk with friends without the hassle of searching for wires. My only concern is that we will not be able turn off the microphone or have a microphone free version.
Specs link: While we won't be going in depth on the specs of the new PlayStation in this article, you can find a link to a more in-depth look into the specs in our other article.
This is the new design for the new Playstation 5. While it has a very sleek design, it unfortunately also looks like a book. Perhaps this is intentional to invoke thoughts of a library of games in the player's mind. The new design has proven divisive among fans, with some appreciating the sleek two-toned design while others are less keen. It has become a meme to post ridiculous photoshopped images of the same color scheme applied to anything from a Siamese cat to the pope's hat.
Next, we shall talk of the games coming to the new console:
Astro's Playroom returns with a series of minigames which will be pre-packaged with the console and will use all the PS5's new features to its advantage.
Bugsnax is set on a tropical island you may tame walrus-like creatures with food. However, it is a situation where you are what you eat as they might actually turn into food.
Deathloop is a game where two assassins are attempting to kill each other in a continuous time loop, and boasts Dishonored-style gameplay in a town from the Wild West.
Demon's Souls Remaster is a remaster of the popular PS3 game of the same name. The players can choose between two modes of graphics while playing: one focused on fidelity and one focused on frame rate.
Destruction AllStars is Sony's answer to Rocket League. However, rather than football, this game is a quirky physics-based destruction derby.
Ghostwire: Tokyo is set a world where 99% of Tokyo's population has vanished. In this post-apocalyptic Tokyo, you must investigate and fight paranormal spirits.
Godfall is a third-person melee combat RPG in which you play the role of a knight in a fantasy world.
Goodbye Volcano High is an animated game where you play as a teenage non-binary dinosaur humanoid during your last year of high school, attempting to gain notoriety for your band.
Grand Theft Auto V is finally coming to PS5. In the off chance you've been in a coma since 2012, firstly, I'm sorry we messed up. Secondly, this is a game where you loot and shoot your way across the fictional city of Los Santos. There is also a multiplayer mode where you strive to wear funny hats, have bizarre mods, and get 5-star crime ratings.
Gran Turismo 7 is an impressive new driving game and is a joy to look at. Additionally, it boasts the inclusion of many cars including an ultra-rare Porsche as well as simulations of some famous older cars, including a digital recreation of the Porsche 917, driven by Steve McQueen in La Mans.
Hitman III is the third and concluding game in the episodic modern take on the long-running modern-day stealth game. The first location in the new episode of this series will be the desert city of Dubai.
Horizon Forbidden West is the highly anticipated sequel to Horizon Zero Dawn, the post-apocalyptic game where humanity has gone back to a hunter-gatherer society and exists alongside robotic Neanderthal creatures. As the title suggests, you are heading west, with the trailer showing the remnants of iconic landmarks from San Francisco and what could be Las Vegas. Aloy must uncover the source of the red plague that is destroying the natural world. Also, there are robot mammoths.
JETT: The Far Shore is a space exploration game where you are tasked with discovering and settling a new home for your people.
Kena: When a girl called Kena travels to a distant village, she discovers that the town has been deserted, save for all the cute balls of fluff known as the rot. Her primary purpose in the game is to heal the corrupted spirits.
Little Devil Inside has two stories being told concurrently in the trailer. One is an old man living his comfortable daily life, while the other is an explorer hunting down a bounty in a dangerous tropical landscape.
NBA 2k21 – Basketball game based on the 2020-2021 NBA series of games.
Oddworld: Soulstorm is part of the long running Oddworld games. You play as Abe, a mudokon and former slave who must return to free his fellow mudokons.
Pragmata is a new IP where you play as a man in a spacesuit exploring a decaying Earth. In the trailer you are shown defending a ghostly girl by fighting off space debris.
Project Athia is a game where you play as a magic girl who ends up in a fantastical realm. In order to survive, though, you have to fend off the monsters coming after you.
Ratchet and Clank: Rift Apart is a new game. Large rifts in spac and time have started appearing. Ratchet and Clank set out to explore these alternate realms. While they are in the area between universes, however, they lose each other and end up in two completely separate realms. They now have to work out how to get back to the other.
Resident Evil VIIIage is a direct sequel to Resident Evil VII where you continue to play as Ethan, who is attempting to go back to his normal life. Dependent on the player's choices in 7, you may be living with Mia. However, Chris Renfield turns up in your village, and with his arrival, the horror begins to return to Ethan's life.
Returnal is a game where you play as a space explorer who keeps replaying her first day on an alien planet, ending with her death. She must repeat the loop as she discovers the mysteries of the planet. However, the more loops she goes through, the more the alien planet begins to destroy her sanity.
Sackboy: A Big Adventure is a spin-off following a main character in the popular Little Big Planet games. In this game you follow the titular character as he explores a 3D platforming world.
Solar Ash Kingdom is a platformer where you play as a space-surfing woman traversing a planet where you are at the whims of a silver godlike being.
Spider-Man Miles Morales is a follow-up to 2018's hit Spider-Man game from Insomniac. You play as Miles Morales, who was also bitten by a radioactive spider, and has all the same powers as Peter Parker, along with his very own camouflage ability and venom strike power.
Stray is a game featuring a messenger cat trying to get home in a cyberpunk Tokyo where the people have seemingly been replaced by robots, right down to the homeless on the streets. At the same time as this pressing mission, the cat is trying to untangle an ancient mystery.